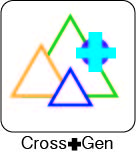 Cross+Generational Faith Formation
We, the church, are blessed with an opportunity no other communities and groups have on a regular basis – all ages together, in one place, at one time.
Over the years we have learned and shared that for faith to stick with our children as they grow and step into adulthood, they need a minimum of five adults – beyond their parents – to build ongoing relationships with them. These relationships are not just about adults speaking into and guiding the next generation, but about the faith of the young encouraging and building up the faith of those who are older. Keeping that in mind, we are being more intentional in helping these relationships happen. Instead of having a traditionally age-segregated Sunday school we have combined all ages in what we call Cross+Gen.
What is Cross+Gen?
Cross+Gen is discipleship time that brings all ages together to learn and grow in faith through prayer, praise, the reading of scripture, movement, and discussion. The aim is to build lasting relationships across generations where the gifts of the younger meet the needs of the older and vice versa.
We encourage all ages to join us Sundays at 9:45am for Cross+Gen. During Cross+Gen each week we will look at the theme Scripture passage for the week. We will dig into God's Word through small group discussions and fun large group activities. We hope to help people build relationships, strengthen their faith and work on living out their faith on a daily basis.
We also continue to partner with Crossing Cambodia and collect a special offering each week to help sponsor a child. We try to raise $1200 annually to support our student Han in Cambodia. The money helps him have food, clothing, medical care, and a chance to go to school.
All ages are invited to join us!
Total Views: 6516 ,