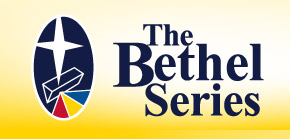 What is Bethel?
Our faith boils down to a deep and abiding relationship with our God and Savior. Relationships grow when we spend time with one another, understand and learn from others, and grow closer together. In our relationship with God this happens through knowing His word, spending time with Him in prayer and worship, and experiencing His faithfulness as we follow and obey Him. The Bethel Bible Series is designed to give the follower of Jesus an indispensible foundation of the Bible, allowing them to be blessed through a lifetime of individual and group Bible study.
Major Themes
– Major themes and concepts of scripture
– How it is all about Jesus
– The history of God's people and how each part of the Bible fits into that history
– How to understand the various genres, literary devices, and modes of conveying the Gospel message the different authors of Scripture used
– How God has done all that He has done for humanity
---
We are currently in the two year process of training our members to be leaders/teachers of Bethel Small Groups. Contact the church office if you are interested in the study and/or if you are interested in being contacted when we begin our next Series.  
Total Views: 7557 ,