Why do we worship?
In worship each week we have the opportunity to come together with others to confess our brokenness and receive God's forgiveness and grace.  Being humbled before the cross in worship, looking toward our Savior, we are renewed and restored so as to continue to daily live out the faith we have received through Christ.
 Sunday Worship Schedule
 8:30am  –  In-Person Traditional Worship
9:45am – Discussion Groups for All Ages
 10:45am  –  In-Person Contemporary Worship
(Please visit this page for information about our livestreamed services.)

Taizé Worship  (also livestreamed on YouTube)
7:00pm – 3rd Friday of each month (excluding July)
What is Taizé?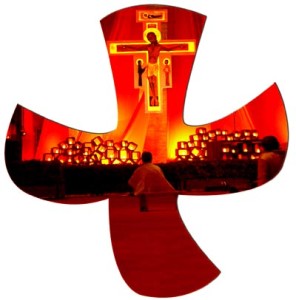 Taizé is an ecumenical, Christian community in France organized as a result of Nazi atrocities during World War II.  From this community, a style of prayer and worship evolved.  It is a time of singing and prayer with scripture readings.
Visit www.taize.fr/en for more information on the Taizé community.  Contact Holly Andersen with questions and/or to participate as a musician – holly.e.andersen@gmail.com.
Total Views: 11487 ,