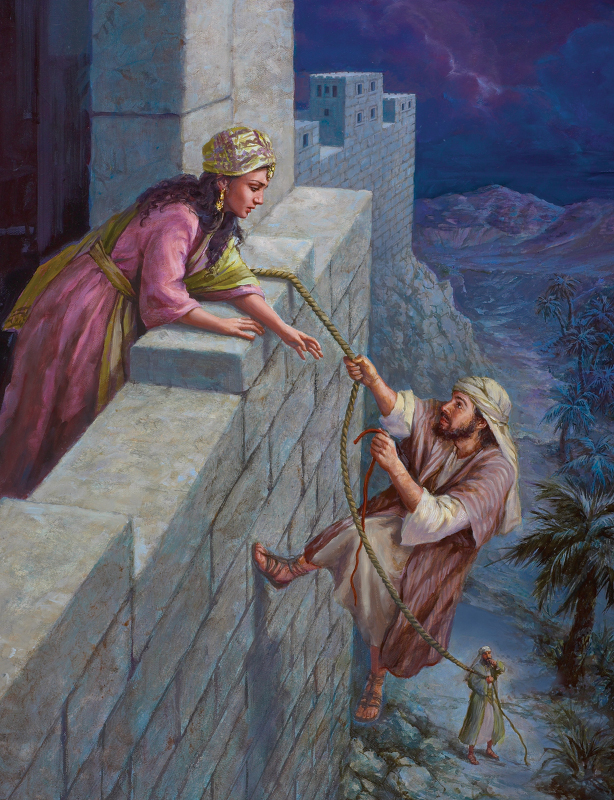 Did you know that Comfort Dog Rahab is named after a remarkable woman in the Bible? We learn about her in the book of Joshua, chapter 2.
When the Hebrews were ready to start their entry into the Promised Land, their leader Joshua sent out two spies to examine the fighting force of the fortified city of Jericho. The spies hid in Rahab's house, which was constructed into the city wall. Some men of Jericho were sent to seize the spies and asked Rahab to bring them out, but she hid them under bunches of flax on the roof, protecting them from capture.
Rahab said to the spies: "I know that the LORD has given you this land and that a great fear of you has fallen on us, so that all who live in this country are melting in fear because of you. We have heard how the LORD dried up the water of the Red Sea for you when you came out of Egypt, and what you did to Sihon and Og, the two kings of the Amorites east of the Jordan, whom you completely destroyed. When we heard of it, our hearts melted in fear and everyone's courage failed because of you, for the LORD your God is God in heaven above and on the earth below.
"Now then, please swear to me by the LORD that you will show kindness to my family, because I have shown kindness to you. Give me a sure sign that you will spare the lives of my father and mother, my brothers and sisters, and all who belong to them—and that you will save us from death." (Joshua 2:9-13 NIV)
The spies asked Rahab to hang a red cord from her window so that when the Hebrews attacked the city, Rahab's household would be spared. Rahab then lowered the spies down the outside of the city wall with a rope. You can read the rest of this remarkable story in Joshua, chapter 6!
Rahab's Genealogy: Rahab later married an Israelite man, Salmon. They were great-great-grandparents of Israel's mighty King David. And thus, Rahab is an ancestress of Jesus Himself!
Total Views: 2076 ,