Cross+Gen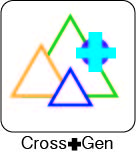 We encourage all ages to join us Sundays at 9:45am for Cross+Gen. During Cross+Gen each week we will look at the theme Scripture passage for the week. We will dig into God's Word through small group discussions and fun large group activities.  We hope to help people build relationships, strength their faith and work on living out their faith on a daily basis. Come get to know someone from a different worship service, from a different background, and a different age so that we can all see what the body of Christ looks like here at St. Andrews.
We continue to partner with Crossing Cambodia and collect a special offering each week to help sponsor a child. We try to raise $1200 annually to support our student Hua in Cambodia. The money helps him have food, clothing, medical care, and a chance to go to school.
For more information contact Holly Andersen.
Total Views: 8161 ,